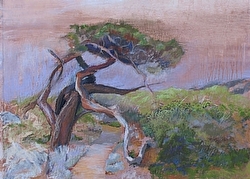 Twisted Path, Asilomar at Monterey, CA
It has been a long trip, full of hills, plateaus, and lots of curves. Lots of rest stops, refueling breaks. A ton of maintenance. Some meet-ups with old friends, some making of new ones. Several stretches of dull and boring. An occasional high-flying hill to coast down. Pretty colorful in spots.
Double entendres? Of course!
So, are we there yet? Biking, traveling, tired-to-the-bone hike, Bill always has the same encouraging answer. "Almost half way there."
Art journey? It's the same: I'm almost half way there. Still learning, pushing, stretching.
Learning, as in just the tiniest touch of a Terry Ludwig pastel edge can create awesome cattails and wild grass.
Pushing, as in don't stop on the painting just yet. Take the contrasts and values further. Put more pressure on the pastel to model the form. Tone down some colors, jazz up the others.
Stretching, as in handling the color green in landscapes. I'm a people painter, love it, enjoy it, have fun with new ideas. Landscapes are the challenge, but in stretching through the learning curve, I'm beginning to enjoy painting those greens. I'm learning the value of grays, and the rich beauty of purples.
Am I there yet? You know the answer.
Comment on or Share this Article →