« End of Year and E-Cards | Main | Woodlands High School Art Trust »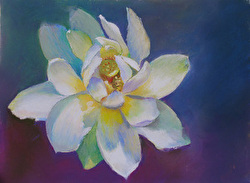 Newest painting, Mystic Lotus, Pastel, 8x10
Today was publish day. After weeks of planning, thinking, writing, and agonizing.
When I hit the send button, I was like an old-time Norman Rockwell character, grinning from ear to ear. Excited that I had done something new, that I had accomplished a goal. The newsletter had been prettied up, finalized, and published on January 16, the date I had set for myself (another check-mark  for the year!).
The newsletter, Art, Golf, and Life Between, is not what you'd expect from an artist. It's not just about art, because all of the great things in my life intertwine. I love painting; it's an escape. I love golf; it's a challenge. I love travel; it's a chance to explore other cultures and ways of life. And, ultimately, that's what my newsletter is about—Life.
In Fine Art Views feature article today, Keith Bond suggests compartmentalizing, having separate places to create art, to frame, mat, etc, and to take care of the business side of art. It's an excellent article, the main idea being that it is too easy to lose focus.
But life just won't fit into compartments. Travel created my need to study art. My artwork features people or scenes from travel. And golf has led me into a new subject matter, painting the golf course.
That's how the writing in today's newsletter came to be. It's a great read; you can find it by clicking here.
Topics:
Newsletter
|
Pastel
|
Travel
|
Golf
Comments