« Right Brain Left Brain | Main | Just Changing the Color »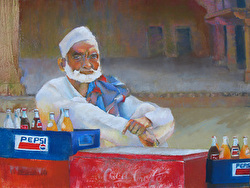 Hot Day Cool Drink, Pastel, 18x24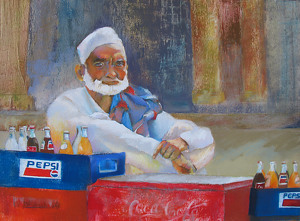 Does a portrait or figurative piece have to have a detailed background, or can it be abstract? I love painting people but I've never enjoyed "putting an environment behind or around them." To me, the person, character, gesture and emotion are the only important elements. So it was with joy that I read Seth Haverkamp's article in the beautiful ArtistsOnArt online magazine. It was almost like I now have permission, or excuse, or justification to forego all the hours trying unsuccessfully to perfect a background.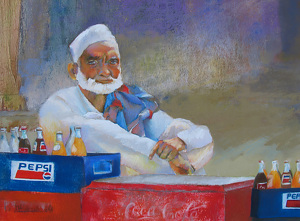 As an example, the foreground and person were complete in Hot Day Cool Drink, but I couldn't resolve what was behind the subject. The painting went through these transformations.

The painting got better, but the struggle with the background surely took away from the enjoyment of creating the Pepsi man. Guess how my next figurative work with be finished!
Topics:
Color
|
Creative
|
Drawing
|
Pastel
|
Pastel techniques
Comments