« Except for that | Main | I was lazy . . . and that was good. »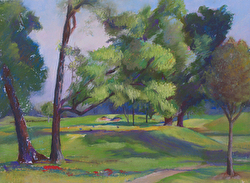 Two Tee, Pastel, 12x16
My deck has a beautiful view every day, overlooking a lake, fairway and green. Last night Pecan Grove transformed the view: people relaxing on the hill behind the green and lining the fairway, waiting.
Long before the official fireworks began, the sky bloomed sporadically from all directions. I let my mind wander, and wonder, what was I really seeing and hearing?
Close your eyes and it's the sounds of a battlefield. Loud booms like canonfire, crackles and sizzles of distant artillery, pffts as the long trails of smoke lifted up, staccato pops of firecrackers. Reminders of what it must have been like in the battles that won our 4th of July celebration.
The freedom of doing something that's normally forbidden.
Families and communities, together for the day.
Oohs and ahs of appreciation and surprise.
Just how much money is consumed for two second flashes.
Open your eyes and it's what we were waiting for: brilliance of light and color creating art in the sky.
All of it amounts to the freedom we share in America
Topics:
Creative
Comments