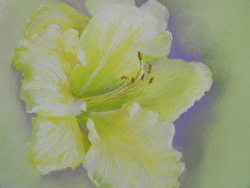 Frilly Lily, Pastel, 8x10
Frilly Lily, what better name could there be? She's just in time for Easter and painted in her natural colors.
The pastel painting of this flower did not require any made-up colors; I just wanted to paint the fragile, delicate petals as nature made them. Planted and blooming in the D.C. Museum Mall area, this lily had many friends. Lavishly planted beds of color kept my camera clicking, as I walked from one museum tour to another. It's a wonderful, beautiful part of our nation, a trip I braved solo by train from Baltimore.
Of all the monuments, memorials and museums in D.C., the Vietnam Veterans Memorial stands apart in my memory. I painted Remembrance several years after seeing the Wall, simply because its beauty and solemnity stayed with me.
Comment on or Share this Article →