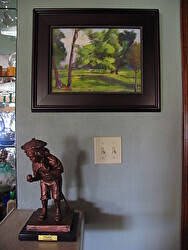 Two Tee framed
My awesome, long, one putt went in the hole, for par. "That just shows that on a par 5 you don't have to risk the water trying to reach the green in 3. Just lay up, pitch it close to the pin, and drop your 5th stroke in the hole," says my Chief Critic aka husband. "You won't get par every time, but you're learning and you're playing smart."
Isn't that a great way to look at art? Every painting doesn't have to be the one that will win awards. It can be a painting that stays in the closet but taught me something. It can be a painting that rests for a while then sees new life because now I know how to make it better.
A par 5 is hard for the average lady golfer. Two Tee especially poses that problem. It takes a great drive to miss the sand and crest the first slope for a good forward roll. It takes a great fairway shot to fly through the alley, that narrow strip with sand on the left and a vicious slope to the water on the right. Easy to the green if you have a perfect pitch. Two putts for a par? Well that depends on the pin placement, which is usually a bear. I've made the par, but I'm happy with a 6.
Monday, October 8, somebody new will be happy with Two Tee. It's my donated painting for Rally for the Cure, my group's golf tournament supporting breast cancer awareness. Seems like everything is pink in October!
And the image of Two Tee? Sometimes it helps to see a painting framed and in place in a home.
Comment on or Share this Article →