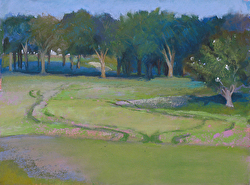 Where Are You Going
It's early morning, 7:00, sitting on the deck with that first coffee, wondering how to tackle the day. It's a great view from the upstairs deck, a lake and fairways seeming to spread to infinity. About half way through the coffee, my eyes focused on the puzzle of tracks just off the green. Dew still on the grass, the tracks were eerily visible, joining, separating, crossing, disappearing. Maybe because the morning was so still and quiet, one could imagine the tracks telling a life story. I knew the title of the painting would be "Where Are You Going."
And now I wonder if that is what I should ask my art muse: "Where am I going?"
My age this year is 70, and I think my mind is overly concerned: There just is not enough time and parallel physical ability to do all the things I want to do. In January I set a 10-10-10 goal; half way through the year, I'm not even close. Just like the tracks in the painting, I start to merge with goals, but then sharply pull away. I swing wide, far away from my goal, doubting that it can be achieved.
But then a phone call or email or completed painting steers me back.
Where Am I Going? Just as the tracks in this painting swerve back on course, the artist in me is looking down the road with lofty ambition:
I've submitted paintings to Pastel Society of America Open Juried Exhibition
I've entered my local Best of Show painting in Lone Star Art Guild 2013 competition
I've been invited to have a booth at the Historic Rosenberg Cultural Arts District
I'm planning for my 2nd annual Open Studio this fall.
The tracks in the painting disappear into the distance, leaving questions, not finishing the story. After all, we are never more than Almost Half-way There.