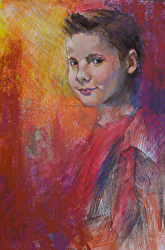 He's An Artist
BACKGROUNDS CAN BE SIMPLE: PART 5
Standing by his own art entry, he glanced over at me with a "we're both artists" kind of smile. So exquisite, you know you're going to paint it.
The reference photo had a dark, no-interest background. Whatever colors I used in the background would ultimately affect everything I did in his face. With a faint idea that it should be simple but colorful, I side-stroked vivid pastels around the head placement. Then I washed, brushed and pushed around the pastel to stain the paper in a child-like way. I wanted to imply a brilliant light falling on his face, and the yellow worked. After the paper was dry, a couple of vertical strokes to indicate a doorway on the left keeps the eyes from sliding off the edge.
Another aha came when painting the face. I normally have a very light touch using the pastel. I wasn't satisfied with the modeling of the face, especially around the nose, so perhaps in aggravation I pushed a Terry Ludwig pastel firmly into the paper. The transformation was immediate - and gratifying.
In painting him, the artist taught me something important: I learned that when close to the end of a painting, extra pressure on the sticks - if using the right value and temperature - models and defines.
Very different handling of pastel for me. The face is defined, detailed, with the shirt and background loose and impressionistic.
Comment on or Share this Article →