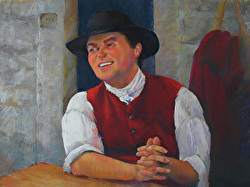 Talking About Ticonderoga
Finished? Put the last stroke of color on it? Added your artistic signature? Even framed it?

It's still not too late to make it better. Examine your painting. Put it front and center where you have to look at it several times during the day. Study it for flaws:
One small area bothering you
Colors wrong
Background doesn't recede
Perspective not quite right
Focal point in the wrong place
Cropping would make a stronger image
Maybe you stopped just short of pushing the form or color
Enter it in a competition. If it is rejected, try to understand why. Sometimes it just didn't fit in with the parameters of the show or the preferences of the judge, or the photo image was not true to your painting, and sometimes there were simply more excellent entries than the show could accept . But if you were diligent about choosing the right competition (which includes medium and juror), it likely was rejected because of something that you can still correct.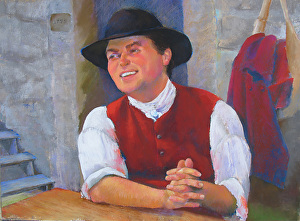 Get a professional critique. Some excellent artists are now offering digital critiques for a very reasonable fee. Their advice can be invaluable in helping you to see your work through fresh eyes. And if you can incorporate their comments on that one particular painting into your future paintings — then everything gets better.
The image on the right was my "finished" painting, the best I could do. At least that's what I thought. Until a critique from Bill James, an impressionist pastel artist whose figurative work I've admired for years. Bill's critique made me look at the composition as a whole, and its elements individually. With trepidation, I brushed off those stairs I had so laboriously painted. An immediate improvement. Some of the red reflections got whisked away; I understood why they shouldn't and couldn't be there. Minor color adjustments. Every change made the painting better, stronger. The final Talking About Ticondergo is at the top of this blog.
I used to be afraid that changing something would "ruin" the painting. Now I study it and try to find what it takes to make it better.
Comment on or Share this Article →