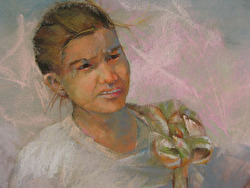 India's Child
How do we decide

what to paint, and what happens in our art journey? Is it just an accidental choice, or is it kismet?
I believe that, rather than coincidence, it is a melding of decisions and choices that influence each other. Those "accidental happenings" set us upon a path, maybe a new direction.
During our time in the Middle East, my husband and I traveled twice to India; first to Delhi and Agra, then Madras and the South Coastline. I love the inlaid marble, the beautiful silk rugs, pashmina shawls and ikat that came home with us. And I love the memory of color and activity. Lately my painting muse seems enchanted again with India: the pastel sticks have found their way to the faces of India, with the Pepsi man and the boy mechanic.
Now, a great movie: The Best Exotic Marigold Hotel for the Elderly and Beautiful. Just a glimpse of a commercial had led to, "I want to see the Marigold one," not knowing exactly what that was. Was it another coincidence that this movie was set in India? Nope, I think it was part of the twisting, winding road that leads a certain destination. At this point I do not know what that destination is, but don't I love an adventure! So I think I'll continue to concentrate on painting India, its many sights and people.
And who knows, maybe I'll finally be confident enought to paint the beautiful Taj.
P.S. the movie was delightful, heartwarming, with a feel good ending. It's not a special effects or exaggerated movie; all the people and scenes depict what we saw for real in our travels in India. Loved it all.
Comment on or Share this Article →