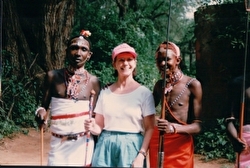 Lunch and tribal dance at camp. Were we ever surprised to see some of the same Samburu men and women from our morning village trip! They are famous for the standing still jump, which is just what it sounds like. Pencil thin, the young Samburu warriors propel themselves straight up, as high as three feet, to a chanted rhythm. I think it defies gravity, because they seem to rise from their feet, without a knee flex.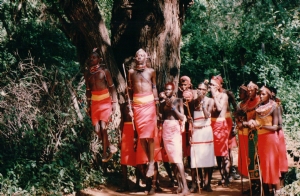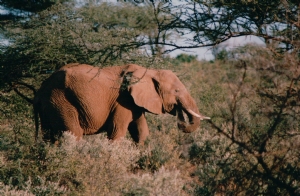 Afternoon Safari. A long, hot game drive, looking for elephants with finally our first sighting of the huge mammoth! Just gaze in awe.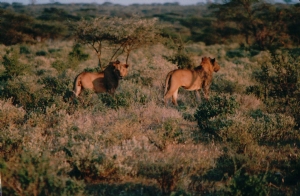 On the way back to camp, the unexpected: a lioness stalking oryx, the two males waiting much behind her. She has to do all the hunting and killing. A special sighting like this brings the troops, in our case the safari vans, 15 when we left. The new arrivals disrupted the pattern of the oryx—it would be a long stalk.
Rule is that safari vans HAVE to be back in camp before dark, about 6:30. At 6:28, Joshua cranks up the engine and floors it; we were bouncing all over the truck. "I take short cut roads," he says moments before he swings the wheel 90 degrees, like a man possessed. He was a stickler for the rules and etiquette of the park. from the Africa journal, December 21, 1996.
Comment on or Share this Article →