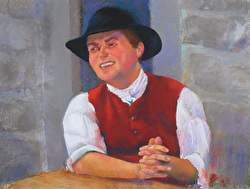 Talking About Ticonderoga
I haven't painted many portraits or figurative pieces in the last couple of years; mainly flowers and landscapes. So going back to the face was scary—could I still get the proportions right, light up the eyes, paint emotion in the face? Self doubt causes fear and the dreaded put-it-off.
These photos of Talking About Ticonderoga show the progression of lines, color and correction. My work-in-progress never looks beautiful. Wish I had the knack that the wonderful Daniel Greene does in making every phase of a painting look perfect. I do, however, always have confidence that the finished piece WILL look perfect.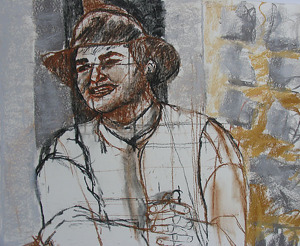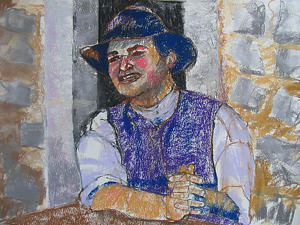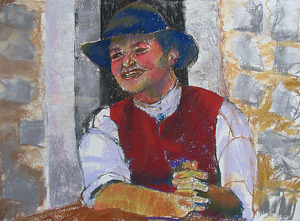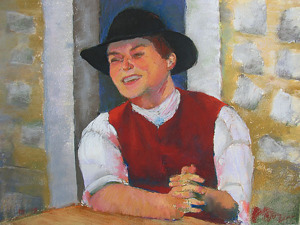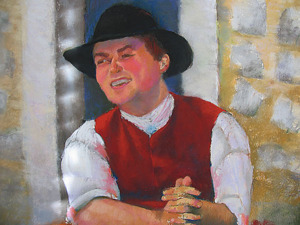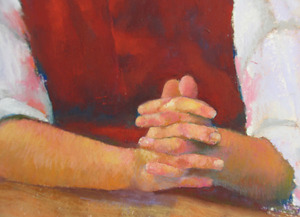 Thanks to great drawing basics learned at Mission: Renaissance in Los Angeles, my drawing is a running question of "where is this in relation to that?" All the visible lines and darker spots on the first photo are reference points. They let me align and relate one thing to another. Color changes as the painting progresses: the black hat and open doorway are layers of blue, green, purple, red and black; the red wool vest starts with purple and blue, ends with burgundy, orange and red, creating a realistic rich color. The light background and dominant rocks were the biggest problem, seeming to fight his white shirt. At the end, I changed shapes and grayed them down. I'm still considering the background unfinished; it looks plain and does not give the guide enough breathing room.
BUT, I tackled my favorite kind of painting - people, with a good result: I have regained my confidence in painting people; the fear is gone.