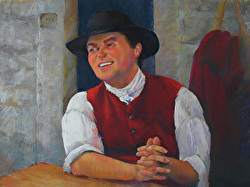 Talking About Ticonderoga
Which is better, the painting with the plain stone wall in the background or the one with more information in the background?
The Ticonderoga guide seemed to be pretty good,but there was nothing in the painting defining WHAT he was. Now the knapsack and coat suggest the historical element, and the 1775 plaque carved into the stone help to tell the story. I made the table longer and added the wooden stairway to push the wall back. Slight adjustments in color in his face, and I was finally satisfied. If something in a painting bothers you, as an artist, you know you will never be satisfied with the painting unless you fix it.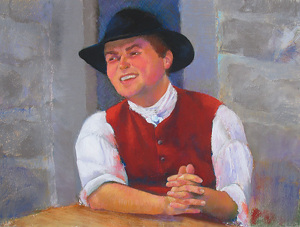 Comment on or Share this Article →